When I checked coin prices today, there was a lot of red.
We're in the midst of a pull-back, which has become so regular that I don't even worry any more. The market hits a new high, drops off a cliff, hits another new high, drops off again, and so on.
Yes, I could be dipping in and out, trying to second guess the market but I'm happy just to sit tight for the long-term. After all, what if it doesn't drop at some point but keeps climbing?
Wishful thinking, maybe… but anyway…
As I looked through the red numbers today, there were a few notable exceptions. NEO was up by 12.75% and GAS had soared, up by a massive 99.23%. That was great news for my newly mined GAS!
What really stood out though was that so-called 'privacy' coins were bucking the trend.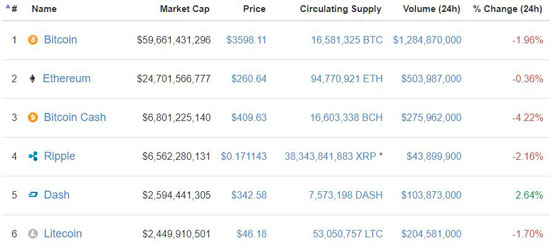 What are Privacy Coins?
If you speak to someone who doesn't really know much about cryptocurrency, they often try to tell you that Bitcoin is used by criminals.
I imagine that's true… but then criminals are also known to use British Pounds, US Dollars and anything else they can get their hands on!
Sure… Bitcoin isn't as traceable as using a credit card, but since every transaction is verified by the public blockchain, it's not exactly anonymous either (no matter what the scaremongers may try to tell you).
A number of coins have emerged, however, which have much more of a focus on privacy. I have been tracking (and hold) a number of these coins and they might be about to see a surge in popularity.


Which are the Privacy Coins?
There are a number of them, for example Monero (XMR), Dash (DASH), Zcash (ZEC), PIVX (PIVX) and CloakCoin (CLOAK).
Amazingly, 4 of those 5 were showing gains today while just about every other coin was red. Bitcoin was down by 2% but Zcash was up more than 11%!
Here's Nicholas Merten (Data Dash) talking about privacy coins:


Why are Privacy Coin Prices Rising?
My theory is that it has everything to do with the Chinese Bitcoin ban.
We don't know yet how long it will go on for, but markets don't like uncertainty and the Bitcoin price is reflecting that, dragging other prices down with it.
Other prices that is, except for many privacy coins.
Could it be that Chinese Bitcoin traders are moving their money into coins which are much more difficult to trace?
That would certainly make sense and could well present a buying opportunity.
I recently sold many of my smaller alt coins for a tidy profit and put the funds into Zcash (ZEC). I already hold Monero (XMR), PIVX (PIVX) and CloakCoin (CLOAK) so I'm well covered.
Let's see what happens!