My recent strategy of buying cheap coins to take advantage of the current bull market is paying off in a big way. As I write this, AntShares (ANS) are shooting upwards and have netted me $10,120 profit.
In this post I will look at what AntShares actually are and possible reasons why their value has suddenly exploded.


What are AntShares?
The AntShare project is based in China and has been in development since 2014. Like most cryptocurrencies it is a decentralised network based on Blockchain technology, however, the big point of difference is that AntShares digitalises real-world assets.
This opens up a number of possibilities, such as enabling registration, transfer, trading, clearing and settlement via a peer-to-peer network. AntShares can use its e-contracts for recording titles and assets including equities, securities, financial contracts, bills and currencies.
It has the potential to be applied to areas such as crowdfunding, equity trading, employee stock ownership plans, peer-to-peer financing, loyalty programs, private equity funds and supply-chain financing.
If none of that makes sense to you, don't worry… you don't need to be any sort of tech whizz to make money from cryptocurrency – I'm proof of that!
The most exciting part though is a partnership with Microsoft. In fact, you can download an AntShares wallet from the Microsoft store! This gives the coin huge credibility.


How did I get involved with AntShares?
As part of my strategy of buying cheap cryptocurrencies, I bought 2,000 AntShares on 8th May 2017 for approximately 0.5BTC or $835. Less than a month later on 2nd June 2017, Bittrex automatically sold 1,000 at double the price in order to recover my 0.5BTC.
The 1,000 AntShares left in my wallet had cost exactly zero!


What has happened to the AntShares price?
As you can see below in the 3 month chart, May 2017 saw a steady uptick in price. The following month was following suit, until 15th June when a big spike started. This has continued right through to today, breaking through the £10.00 barrier. Quite incredible!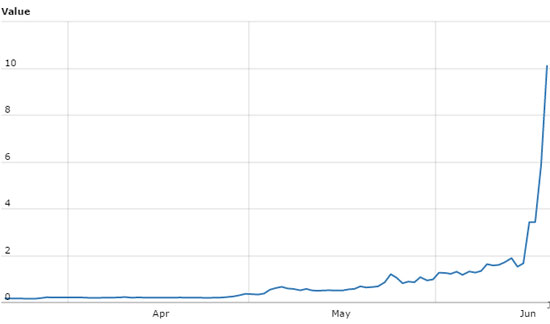 Why has the AntShares price exploded?
Much of it is because of rumours spreading about a meeting on 22nd June 2017 in Beijing. An agenda posted on Reddit states topics such as, "Microsoft Loves Blockchain – Microsoft's vision about blockchain technology", "New ant intelligent contract system" and "New digital currency exchange platform".
It sounds like a big announcement is coming and, whenever Microsoft is involved, that's potentially huge.
Another rumour doing the rounds is that AntShares and Ethereum may be joining forces. That could do wonders for the prices of both, again with the Microsoft connection.


How to buy AntShares
As far as I know, the only Western exchange trading AntShares is Bittrex. Once you deposit currency such as Bitcoin, you can convert it into many others – including AntShares.
With the increased interest in AntShares, I can't imagine it will be long before more exchanges pick it up and that could boost the price too as new money floods into the market.


Should I buy AntShares?
As always, who knows? The price could continue upwards and hit $100 or it could crash back down. I'm in a great position having acquired my coin for free but only you can make the decision as to whether you should buy in or not.
Do your own research and good luck to us all!


Edit: AntShares have now rebranded as NEO