Bitquence is a new token which will be launching soon. The developers behind it have launched an ICO (Initial Coin Offering) in order to raise funds and I have decided to get involved. It's my first ICO and I'm excited to see what happens!
I'll talk more about Bitquence in a sec, but first a quick explanation of ICOs.


What is an ICO?
An ICO is where developers behind a new cryptocurrency project sell a number of tokens in order to raise funds. All sorts of people get involved, mostly speculative investors. No-one is guaranteed to make money from an ICO offering, but one that flies can return a small fortune!
Most ICOs raise money in Bitcoin, Ethereum or other cryptocurrency.
The largest ICO at the time of writing was for EOS, raising a massive $185m. That's even more staggering when you consider that the Token Purchase Agreement read:
"As mentioned above, the EOS Tokens do not have any rights, uses, purpose, attributes, functionalities or features, expressed or implied. Although EOS Tokens may be tradable, they are not an investment, currency, security, commodity, a swap on a currency, security, or commodity or any kind of financial instrument."
That sounds like investors were buying thin air, but it was more to avoid any issues with US regulators than anything else. After all, the ICO was advertised in Times Square, New York City!
"No US Investors"…
*advertises in times square* pic.twitter.com/Vwk9WapFp0

— Jeff Scott (@jeffscottward) June 26, 2017


What is Bitquence?
Bitquence (BQX) is described as, "People-powered cryptocurrency services for the blockchain".
Their mission as stated on their website reads, "Bitquence's Mission is to make the daunting cryptocurrency market accessible to everybody, accelerating adoption of blockchain technology and democratizing ownership of cryptocurrencies".
It goes on to read, "We make cryptocurrencies easier to purchase and transfer allowing the average individual to participate in the New Economy. We believe in the philosophical mission established by Satoshi Nakamoto [creater of Bitcoin]. By creating a secure layer that is accessible to the average person, we put the power in the hands of the people – where it belongs."
Bitquence say they will offer:
Security
Simplification and transparency
High liquidity and access
Get started quickly
Community concensus
Mobile universal wallet


Forbes Magazine have even noticed the ICO. Roger Aitken wrote, "An initiative targeting mainstream consumers with a 'user-friendly crypto wallet' and touted powerful features to enhance accessibility, Bitquence today launched a crowdfund backed by an international group of experts. The project is driven by the idea that people are 'irrevocably changing' the way they interact with financial services."
He goes on to write, "Described as being a 'multi-year project and vision' by its founders, Bitquence aims to go market by the end of 2017 with the Bitquence wallet, Cold storage, Proof of Stake and portfolio diversification. Next year plans are slated to initiate the liquidity network, value transfer and fiat gateway."


Why am I getting involved?
Firstly, I have not been part of an ICO before and it's pretty exciting! But also, I have a mammoth profit locked in already from cryptocurrency investments and an ICO is an opportunity to hit a really big return. If it goes to nothing I'll lose a small amount, but I'm fine with that.
If Bitquence becomes the next Ethereum though… JACKPOT!


How to take part
It's easy to take part in this ICO. Simply send some Ethereum (ETH) over to Bitquence and you'll receive your tokens once the ICO ends.
I have invested approximately $1,750 worth of Ethereum and I'm sitting just below halfway on the investor leaderboard. As long as I finish in the top 100 investors, I will receive:
Unique collectible physical Silver Bitquence Tokens numbered #002 – #100
You may also pick a unique number if available eg 888
10,000 bonus BQX tokens
Free Bitquence transactions fees for 1 year after live platform launch
Priority pick in order of contribution for Bitquence ID


I'm not entirely sure the value of any of it, but 10,000 extra Bitquence would be nice if it takes off!
This is certainly speculative, but I'm at the point at which I can afford to go for some high risk returns. Please do your own research before you think about getting involved.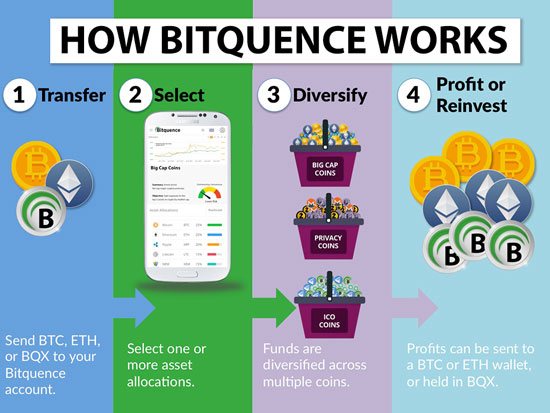 Update: 26th October 2017
I have decided to lock in a good profit, just in case the worst should happen.
It was a bit fiddly as I had to open a Binance account, send Bitquence tokens to the exchange, convert them into Bitcoin, send the Bitcoin to Localbitcoins and sell them.
However, I recouped my initial $1,750 investment and banked around $10,000 profit on top. In addition, I still hold 25,000 BQX which is currently valued at an additional $22,500 ($0.90 each).
Fiddly? I'm fine with that!


Update: 7th January 2018
Bitquence (BQX) have rebranded as Ethos (ETHOS) and are currently valued at more than $10.00 each! What an incredible investment!