After reading my previous post about investing and trading cryptocurrency during the current bubble, Bryn decided to get involved. As you can see above, he's already into profit and – understandably – very happy!
Here's what Bryn had to say:
Hi Steve,

Just a quick email to say that I've taken the plunge into the world of cryptocurrency following your blog post.

I thought about it before when you mentioned Bitcoin last year, but that wasn't the right time back then for me to get involved. Anyway, I decided to buy £2,000 worth on Tuesday night [6th June 2017].

I invested £508 into Ethereum (ETH) which I believe is safer than the lesser cryptocurrencies and all the talk of the town at the moment. I then invested £432 into Ripple (XRP).

After that, I spread the remainder between various lesser coins like you explained in your blog post.

I used Bittrex and Coinbase, but I found it very difficult to track the profit/loss in these platforms and have started to use Cointracking which is great (and free!). You import all your orders into the software and it keeps track of the profit/loss for you.

So as it stands, here are the figures. From Tuesday night to Thursday morning, my initial £2,000 as grown to £2,282.16. The Bitshares (BTS) currency has now actually doubled and I've secured free coins there, returning my initial investment on that particular coin.

So the aim will be to get my initial £2,000 back and have free cryptocurrency to play with.

It's all very interesting and thank you for introducing me to it. I do, however, know it's pretty high risk and the bubble could burst which is why securing that free coin is key.

Cheers, Bryn
A very impressive start, almost 15% growth in just a couple of days!
As I write this, Bitcoin is closing in on $3,000 and Ethereum has hit a new high of $322.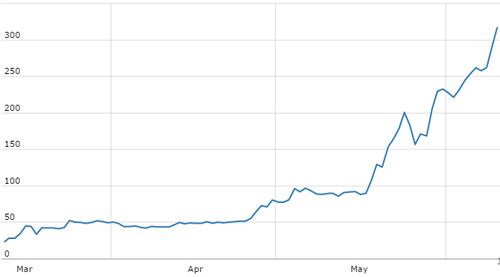 These two are dragging many of the smaller coins along with them and my own portfolio is rising in value consistently. I have now seen 15/28 coins at least double in price. It's quite astounding!
Yes, there is going to be a correction at some point and some profit taking because nothing ever goes up in a straight line. However, this is an incredible time to be involved in cryptocurrency and the long-term outlook continues to be very bullish.